Gilligan's Bar and Chargrill
(Bar is being renamed and under new ownership)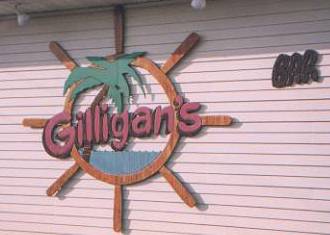 By Heidi Johnson (Applauze Magazine)

The castaways of the SS Minnow would have gladly stayed forever in this tropic island nest of cascading vines, swinging toucans, model ships and coconut trees, with a breathtaking view of Lake Sakatah's picture-perfect lagoon. "Consider yourself rescued!" says Randy Roth, owner since November 1993 of Gilligan's Chargrill & Bar in Waterville, a soon-to-be theme restaurant chain.

Whether you choose patio seating on "the pier" (available May through September), an intimate hideaway booth, or the spacious dining area surrounded by picture windows overlooking the lake, you'll bask in a tropical paradise as you peruse a menu the Skipper would die for. Gilligan's specialty? "The concept of grilling your own steak," says Randy, offering all cuts from top sirloin to T-bone to New York strip, which you can opt to prepare yourself on one of Gilligan's 8-foot grills. "We have a 26-ounce signature steak called the Shipwreck," laughs Randy. "Good luck!"

Other chargrill entrees include chicken breast, gulf shrimp and pork chops, all served with a tempting salad bar. For a lighter appetite, try one of Gilligan's feature salads, burgers or sandwiches such as the Gilligan (lean ground beef smothered with cheese, BLT and onion), the Ginger (a six-ounce chicken breast on a bakery-fresh bun), or the Mary Ann (sliced turkey covered with Swiss cheese and bacon on an open-faced croissant).

After your meal, indulge in a specialty dessert such as turtle cheesecake, lemon meringue or coconut cream pie, just like Mary Ann used to make and all guaranteed homemade, or order a tropical delight (a Blue Hawaiian Devil, a Forbidden Jungle or even a Nutty Monkey!) from the SS Minnow, run aground on the lakeside patio to offer you full-bar service.

Along with food and drink, Gilligan's specializes in summer fun. Play a round of sand volleyball on the lighted court, or take a cruise (not to be confused with the infamous three-hour tour!) on the pontoon, departing every hour Friday and Saturday from 5 p.m. to 9 p.m. and also providing free shuttle service from the dock of Kamp Dels. Gilligan's pontoon may also be reserved for private parties. Randy's promise to you: "Guaranteed smiles!"

Gilligan's Chargrill & Bar is located at 700 Paquin St. East on Lake Sakatah in Waterville. Call-ahead seating is available, and reservations are recommended for parties of eight or more. Gilligan's also offers a Sunday Brunch from 10 a.m. to 1:30 p.m. featuring fresh fruits, pastries, breakfast items and a weekly entree special. For more details or reservations, call (507) 362-4111.
---
Photo's of the bar and menu are located below.

Special thanks goes to Applauze Magazine publisher Jim Johnson for taking the time to find this place and deliver the menu and pictures.

---
Message From The Manager


Hi! I am the manager at Gilligan's Bar and Chargrill. I just wanted you to know that our business is great and people come from miles around for our tropical atmosphere. Not only are people able to grill their own steaks, but we offer a full bar. People enjoy our restaurant again and again because once is never enough.


We have a party room available that seats approx. 50 people and a brand new Gazebo that will seat up to 70. We host several parties year-round. Our motto for our parties is "There is nothing we can't do to make your party the best possible." All parties that are booked for 15 or more people will receive a confirmation letter prior to the party to make sure things run as smoothly as possible.


During the summer months people enjoy being seated on our patio. Children (and adults) love to feed the wild ducks that have made their home on our lakeshore property. We host league volleyball during the summer months as well as our famous annual volleyball tournament. Our pontoon rides will take you on a tou of our beautiful Lake Sakatah. The skipper of our vessel will lead you around the lake and let you in on any fishing tips you might be interested in as he is a great outdoorsman himself. In the fall we celebrate Octoberfest. Previously we have done this by having all the German beer you can drink, a hog roast, children's game and live music.


The interior of the restaurant is amazing! We have approx. 250 live plants hanging from our ceiling. We are constantly hanging more. There are huge palm trees and other artificial plants as well. Our indoor grill is 8'x5'. As you maight guess, in Minnesota you are not able to grill outside, so here's your chance to have your steak done exactly as you like. Of course, our kitchen is more than willing to grill for you if you prefer. We are always updating our menu to keep everyone's palet dripping with desire.


We offer some of the best service that you can get in our area. Our servers are known for having fun, so be ready to laugh and relax when you come to see us. Great service and Guaranteed smiles!


Well, I just thought you might like to hear more about our restaurant first-hand. As the manager of this restaurant, I invite you to check us out personally. Our "fearless crew" is awaiting your arrival!