Howell's Biography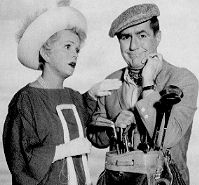 MR. HOWELL


Thurston Howell III has not been a multi-millionaire all his life. He was born merely a millionaire. Thanks to nationwide economic expansion and his natural greed and shrewdness, Howell's money has reproduced itself a hundred fold in the past twenty-five years.


Howell is chairman of the board of an industrial empire (Howell Industries, Inc.); he is also a member of the board in a score of others. He buys and sells blocks of stock as we ordinary mortals might buy and sell yoyos. He has become so wealthy, he himself doesn't know exactly how much money he has.


As his name indicates, Mr. Howell inherited more than mere money. He was born, in 1913, of the bluest blood in Grosse Pointe, Michigan. His father was born in Grosse Pointe and so was his mother.


MRS. HOWELL


Mrs. Lovey Howell (born as Eunice Lovey Wentworth in 1914) is a Grosse Pointe girl; she grew up in the Junior League and Finishing School set. Life's most difficult moments have been in choosing the right gown for the right party. Money isn't something one discusses (a fact which she constantly reminds her husband; talk of wealth is terribly gauche).


Mrs. Howell is a Good Woman; she participates in Group Activities; she gives to Charity; she believes in God, Motherhood, and the Social Order. All's right with the world and what isn't right will be fixed as soon as the 'right'-people "take an interest."


Mrs. Howell believes in being a Good Sport. She is a Help-Mate. She organizes her husband's social life, his recreation; her utmost concern is his health and welfare. She dotes on him and in her own flighty way, is a devoted wife. As not with the other castaways, she doesn't get much grief from Gilligan, but often sees the results of his actions around her. However, even her husband (Mr. Howell) often gets caught by Gilligan's eagerness to please!