Dawn Well's Interview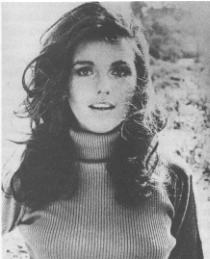 In a way, Mary Ann of Gilligan's Island was the truest "sweetheart" of '60's TV . While most sweethearts were supernatural, super spies, or slight exaggerations of country girls (Elly May), city girls (Ann Marie), or beach girls (Gidget), Mary Ann Summers was pure '60s Americana, a simple, unspoiled girl from Winfield Kansas (in the county of Horners Corners).


The part of Mary Ann was played by Dawn Wells - pure Americana herself. Dawn's great-great grandfather drove a stage coach from Reno to Virginia City during the Silver Rush. She was born in Reno, Nevada. Her father didn't own Wells Fargo, but he did own a trucking company called Wells Cargo.


Dawn planned to become a ballerina, but trick knees ended that dream. Her knees looked good, at least, and the rest of her looked great. She became Miss Nevada, and participated in the 1960 Miss America contest. "I thought it would be a good experience to get in front of an audience and maintain that kind of composure," she says now, "I never had any idea that I'd win. It was a wonderful experience doing the Miss America pageant."


Like the other Miss America's of that era, Dawn was a true model for America's youth. She was not only beautiful, but bright - treasurer of the student body in school and a member of the debate team.


"I was very puritanical, she recalls. "I didn't really drink, and of course there were no drug problems. I was very square. I was very much Mary Ann, I think that the soul of Mary Ann was very much in essence me. I was raised very strictly. My parents were divorced - I was very close to both of them but I lived with my mother who was very strict with me. I couldn't get away with anything, not that I would've." Like her character Mary Ann, Dawn was a sweet, sensible girl. Mary Ann and the Professor were the most logical and capable inhabitants of Gilligan's Island.


A chemistry major at Stephens College in Missouri, Dawn later switched to drama. After getting her AA at the two-year college, she went on to a BA in drama at the University of Washington. "One of the hardest things starting the acting was eliminating the chemistry side of me and just concentrating on the emotional, artistic side of me, 'cause I'm a very practical person, and I tend to think things through. When you act you should 'be it,' not 'think it.' So in preparing how my life was going to go I said I'd try to be an actress and I'd give myself a year."


Though she had very few credits - (a star of summer stock at the Pink Garter Theater in Jackson Hole, Wyoming), she found work easily. "I hate to admit that because it brings false hopes to the poor kids thinking of going into the business, but I came here and got an agent within six weeks and got my first job within six weeks."


She was in a play called Black-Eyed Susan with Mercedes McCambridge and Leon Ames. Later she appeared in the film "The New Interns" and became friends with co-star Barbara Eden. On TV shows like Burke's Law and Wagon Train, she was usually cast an "the ingenue. I played a couple of hookers, but not many."


When Gilligan's Island came along, Dawn didn't grab it. She didn't know about it. They filmed the pilot without her! The original half hour concerned Gilligan, the Skipper, and their two rich passengers. The other characters were minor. As Dawn recalls it, "In the original, Mary Ann, Ginger, and the Professor were three school teachers I think. CBS or [producer] Sherwood Schwartz, I'm not sure which, decided to give it a little more variety, and make the characters different. Tina, Russell and myself didn't do the pilot. I know that John Gabriel was the Professor, and that one of girls was played by Kit Smythe and the other girl was Nancy McCarthy." Dawn came aboard as luckless Mary Ann - marooned on her first trip away from home.


When the reviews came in, everybody on the island was luckless. Sherwood Schwartz had the name Gilligan out of a phone book, hunting for a funny name that would immediately indicate the show was a comedy. The critics still didn't know.


"It is impossible that a more inept, moronic or humorless show has ever appeared on the home tube," wrote UPI Critic Rick DuBrow. The show was ridicules as the ultimate example of how TV quality had degenerated.


At the time, Bob Denver had to admit that Gilligan's Island was not exactly brilliant TV. "It doesn't take a mature intellect to laugh at a monkey running off with Gilligan's dinner or a guy getting hit on the head by a coconut."


With most of the slapstick centered on Gilligan and the Skipper, with dizzy, bickering from Mr. Howell and his wife, and movie star Ginger Grant provide the breathtaking scenery, it seemed that the last two characters, Mary Ann and the Professor, had little to do. In fact, they were merely "the rest" as far as the show's theme songs was concerned. But soon, the producers realized that Mary Ann was an important cast member.


"I always thought in my mind here's Ginger, this beautiful girl, this sexy girl, and of course that's where the male attention is going to go," says Dawn today. "I didn't know until 1988 that I got the most fan mail. I assumed Gilligan would've, or the young men writing to Tina. I got the most fan mail, which surprise me, but I realize now that I was everybody's kind of girl next door, a fantasy but not a fantasy - that reality is that you could probably approach Mary Ann, and she might be the girl you take home to mother, or that you might tell your troubles to."


Ginger Grant could make men swoon - a perfumed beauty in slinky gowns. But Mary Ann was a breath of fresh air in sporty short shorts. In fact, the show's censors were worried more about Dawn than Tina "Just like Barbara Eden on Jeannie, I couldn't show my navel. The shorts had to be high cut." The alternative was to wear her other trademark costume, the gingham skirt.


Dawn recalls getting a plentiful amount of puppy-love mail from boys who wanted to marry her, and thousands of letters from girls asking for beauty tips on how to have such wonderful curly hair. She laughs lightly: "I also got an awful lot of sexy dirty fan mail! I still do. I get letters with religious overtones - about what a good girl Mary Ann is. And they start talking about your legs, and your chest! These letters combine goodness and sexuality. I didn't think Mary Ann was the sex image, I thought Ginger was, but I did get a great amount of these letters, and I've had some dangerous experiences. I think it's because people feel they can approach me. And if they feel they can approach you they assume you're going to accept them, and you have to be very careful how you reject them."


While some may have fantasized about matching themselves with Dawn Wells, the big preoccupation with Gilligan's Island fans in general was trying to figure out likely matches among the lost islanders. Who might've been sleeping with whom? Would Mary Ann have gone for Gilligan? The Skipper? Logic would favor the Professor...


"That's interesting," says Dawn. "There was some matchmaking with Gilligan and Mary Ann also. The Howell's tried to match us up and get us engaged at one point, but I think everything became taboo because of censorship. Here were all these people on the island and nobody's watching where the girls are sleeping and the boys are sleeping. The Howell's were married, which helped some, but the whole sexual innuendo was just left untouched." She laughs. "This was pre Norman Lear! I'd love to see what Gilligan's Island would be now, we'd all be chosen living in the same hut. I don't know!" "Now what Mary Ann would do? I don't know. I think she'd be very understanding and forgiving of Gilligan, and protective of him, and yet I think there would be a tremendous amount of respect for the Professor, so I don't know what she'd do..."


In real life, Dawn married agent Larry Rosen, but it lasted just about as long as the show.


For three years, sweet Mary Ann and the rest of the islanders enjoyed good ratings. The show left the air due to a scheduling conflict. CBS had dropped Gunsmoke and replaced it with Mannix. When viewers protested, CBS had to bring it back. The half hour after Gilligan's Island was still unscheduled, so it was an easy decision to ax Gilligan, add the free half hour, and bring back Marshal Dillon. How many viewers and newspaper critics would dare defend their slapstick sitcom? Today a network thinks twice about canceling a show in the Top 20 or Top 30, but back then networks often dropped shows on the basis of demographics (Red Skelton), politics (The Smothers Brothers), or image (Gilligan's Island).


It was a rough few months. Scripts had been bought and the cast had fully expected to start filming. The news of the cancellation came in March. In May, Dawn's father died. She appeared in a few TV episodes, including an installment of The Invaders, but her practical side emerged again, and she decided not to pursue TV. "I thought basically after Gilligan's Island I'd be playing the character of Mary Ann for the next ten years if I didn't stretch some more. You get typed pretty easily. So I did national tours, regional theater, and dinner theater." She made two films in 1977, Return to Boggy Creek and The Town That Dreaded Sundown. On stage, she veered from comedy to play Ava Gardner's part in Night of the Iguana. Her favorite role was in The Effects of Gamma Rays on Man-in-the-Moon Marigolds. She took the challenge of musicals (they're Playing Our Song), won fine reviews in Bell, Book and Candle, The Owl and the Pussycat, and Chapter Two, and is also proud of doing a thriller called Fatal Attraction in 1986 (no relation to the 1987 movie).


She always had to be wary of critics who knew her only as Mary Ann. "Always. They usually come with an attitude because of it: 'Prove it to me.' Because most of the critics are still making fun of Gilligan's Island.


Most critics who see her praise her - while still panning the past: "Never mind that Dawn Wells played Mary Ann in 'Gilligan's Island,' the Minneapolis Tribune wrote of her role in Chapter Two, "she's a brilliant actress with a superb sense of timing."


"When I do a role it's real important to me that what I'm doing has quality. Because everyone will come see Mary Ann one time - what does she look like now, what's she like in person - but unless they come away having enjoyed the play and feeling all the communication that happens in the theater, they're not going to come back and see you. I've been lucky - 'cause I really - knock on wood - have not been out of work except by choice since the series went off the air, and that's pretty tough to say in this day and age."


During nearly fifteen years of theatrical touring, Dawn called Nashville her home base. She had a steady relationship for all those years with Tom Ervin. It was a slightly unorthodox partnership. "We never lived together or anything. We both had our own lives kind of. It was sort of a nice arrangement, we're no longer together but it was nice. He was a lovely man, and I'm very close to his children. Since I don't have children that was an important part for me. It was certainly unconventional I suppose, but we both had our own lives and we were committed to each other as if we were married, there was never any of that playing around kind of stuff."


Then why didn't she marry? "Truthfully both of us were very into what we were doing and I feel to be a wife you should be there all the time and I was out of town for three weeks or three months, and I don't think you can take on the responsibilities of a wife and do that. So our arrangement was adequate for both of us."


She came back to California in March 1987, tired of the constant touring, eager for something new. Oddly, in one of the last Gilligan TV movies, Mary Ann also had the chance for marriage, and balked. "She went back home on one of our specials to marry her old-time sweetheart - she was committed to go through it and didn't - that's kind of Mary Ann. She would be the one helping milk the cows and helping make the decisions on the farm. She wouldn't sit back and be taken care of. She wouldn't be Lovey [Mrs. Howell on the show]. She would be a contributor: I don't think that like Dawn Wells she's overly aggressive or overly unfeminine. I'm not a women's libber in the case that I have to prove that I'm better than a man. I think women can do a lot of things equally as well as a man, but I sure still like being a woman. I think there are advantages to both sexes, that they ought to keep them in their place. I mean I'm a believer in just everybody being self-reliant. You have to answer to yourself first, and then when your cup is full, and when you're a full person, the love can be given to someone else. I don't believe you should take something away from someone else to make you a complete person. Two happy people make a happy couple, not one unhappy person trying to get the happiness from the other. That's unhealthy I think. I hope someday to remarry. I'm not antimarriage at all. I believe in love and I believe in a relationship and a commitment and all of that, very much so. But I also like making my own decisions.


In her career, Dawn's decision seems to be diversity. She's enjoying her work as an actress. She's also been active in teaching advanced acting courses at Stephens College in Missouri, her old alma mater. She also is a clothing designer. Her fashions are practical, attractive, and for very special people. "The fellow that I was going with in Nashville, his mother was in a nursing home for ten years. The ladies have their bathrobes turned around backward so they can get them on - and there's no dignity or self respect. They don't feel good about themselves. Finally I asked myself why? Why do we treat out senior citizens like that? So I designed these cheerful, pretty bathrobes and nightshirts. They open down the back and are easily accessible, washable and durable. I think it's something that's really needed." She got the idea when she was appearing in "They're Playing Our Song," and her costume - a skirt, blouse, and sweater - were all one piece, attached in the back with Velcro for quick changes between scenes. "And I thought, why can't you make this costume work for these people? So that's kind of what I've done. I'm very excited about it."


At one time, a woman in her late forties or early fifties seemed old. There's nothing old about Dawn, who has a vivacious personality, a charming and frequent laugh and hardly looks her age. She believes in fitness. "I like water aerobics a lot, the pressure of the water kind of contours your body, I think. I also think swimming is one the best things for your body. I also have a rowing machine I use. I'm not a health nut, but all my life I've been a real balanced food eater, I've dieted all my life. My father was very big and very tall, my mother's very little, I always felt I'd be my mother's height and my father's weight, so from day one I was always very nutrition-conscious of what's good for you and what isn't. I also think it's partly hereditary. I'm part Italian, and I think the Italian side of me, with the oils in the skin and all of that, helps too. Contrary to what everybody says, I'm a sun worshipper. I know that's terrible, but I like a little color. I believe in water, I drink a lot of water."


"I consider myself to be very fortunate that I've been working so much and so long. A pianist doesn't play the piano once a year and think he's wonderful - you've got to keep at it, you've got to keep growing, and you've got to keep improving, but that's the beauty and the joy of art to me, that's the creative process. I can't sit idle. There are a lot of aspects to me that need fulfilling. Maybe part of it's because I have not had children and a family, so that there's another area that needs to be taken up, the slack needs to be taken up a little, but I'm a very happy person. I'm very fortunate, and I'm real content with my life. I like where I am and who I am, and that's a good sign."


Recently she took a trip to Africa, joining climbers on an excursion to the lair of mountain gorillas. "I climbed from eight thousand to twelve thousand feet in one day, hacking through the jungle, and I got ten feet from the silverback gorilla and the whole family. Even now I get goose bumps - it's like taking yourself back to prehistoric times. This five-hundred pound creature looking you in the eye - no hostility - gentleness, curiosity, total trust. It was really something, it almost changes your life. I've traveled a lot, to Russia and all of that, but Africa - that was a real experience for me."


It seems that no matter how often Dawn has been around the world she inevitably ends up back on Gilligan's Island. There have been three TV movies so far, and constant talk of another. She doesn't mind. For over 30 years now, the various Gilligan's Islanders have remained friends. Alan Hale, Jim Backus and Natalie Schaefer have passed away, but Dawn was quite good friends with them. In fact, she says, "I adore Bob Denver and his wife. They don't live in town though. He's really shy, something of a loner. And I see Russell of course. However, I haven't seen much of Tina since she won't do any of our specials."


Though the various members of the show have been quoted as bitter about the lack of residuals (the standard at the time called for payment for only the first five reruns of each episode), Dawn, true to her Mary Ann spirit, looks on the bright side. "The residuals we got probably doubled the salary we made. Yeah, somebody else is making a lot off it now, but because it's on the air you're able to make money somewhere else."


"We didn't plan a strategy," she admits. "We didn't think about merchandising dolls and posters. We were doing a show, that's what we were doing. Nowadays you might do it a little differently - you know you've got to capture the time you're on the air and make the most of it, but I think I've made a living because of Gilligan's popularity. My price has gone up, my choices are different. I'm not saying that it isn't a hindrance in some ways too. It's a double-edged sword I suppose.


"I have good memories, good feelings, it was a wonderful experience. It wasn't the most creative acting job I ever had, but I loved the character, I loved the experience of doing it, and I went on. I don't have any hostile feelings about it. I have such an animosity for actors who get on a series and then bad-rap it. 'It's a piece of garbage, I wish I were out doing Shakespeare.' Then why take the job away from some actor that would love to do it? Why try to sabotage something that others are working hard at? If you don't want to work on television then don't do it!"


Dawn still gets about fifty fan letters a week from Gilligan fans old and new. "It's kind of nice. Some fans follow you through it all, send me Christmas cards, and when I'm on the road they come and see me. I was doing a show and afterwards a whole family came to see me backstage. One of them said, 'I watched you when I was growing up, my parents loved you, my children are now watching you.' So you have three generations watching you. That's something. We've never been off the air in over thirty years," she adds with a laugh, "if you could stand it!"


She seems to be able to stand the constant Gilligan reminders. "I got on the plane last year in Disney World, coming out of Orlando flying into Atlanta, and the entire Eastern Airlines plane broke into the Gilligan's Island song! [laughs] I mean...it was thirty years ago! My fantasy is going to a costume party as Mary Ann in my gingham dress, gray pigtails, and a walker. How long can we do this!"


She admits that every now and then she'll catch a rerun. "It's really kind of fun how it holds up - nonsensical silly slapstick humor is what it was. Escapism is all it was, but it was one of the best there was." It was the ultimate escapist show - people trying to escape the island every week. But with Mary Ann on the island, there was also good reason to stay.