Tina Louise Interview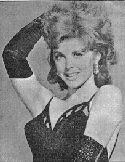 "Whoever heard of such a dumb idea for a TV show? Seven castaways stranded on a desert island week after week!"


Tina Louise didn't.


She thought Gilligan's Island was going to be about the island adventures of movie star Ginger Grant. Most of the other characters didn't even have names. Gilligan and the Skipper were open calls - Jerry Van Dyke and Carroll O'Connor were first choice, later Bob Denver and Alan Hale, Jr. But who cared? The star, she was told, was Tina Louise. Tina was a star, even then. No one else in the cast had been a major news item for nearly a decade - for scandals, society-page gossip, magazine pictorials, and movie and Broadway roles. Nobody else in the cast had been photographed as often, or treated like such royalty.


Take The New York Times - they announced Gilligan's Island with the headline TV SHOW FOR TINA LOUISE.


About the only time Tina didn't make headlines was when she was born, February 11, 1934. She was Tina Blacker then, the daughter of a Brooklyn candy store owner, a fact that's gotten her listed in the Encyclopedia Yiddishanica for being Jewish. By the time she was four, her parents divorced.


From the age of five till she was eight she was put in a private school. "They didn't beat me. Just slapped me once. It was just a miserable place. And I don't think any child could really be happy between five and eight away from their parents, do you? No, I don't think so...they took away my dolls at night. Why? It was a very confining atmosphere, not a particularly happy time."


Was she considered a "pretty child?" She laughs, thinks for a moment, and says, "I don't know about,that. I really don't know. I think I was OK. I was OK. My stepmother once said I was homely, and teased me. I don't think I was ravishing, but I think I was pretty."


Her mother Peggy married wealthy Dr. John Myers, a well-known society figure. Now Tina Myers, she suddenly had the best of everything and graduated from the Scarborough High School in Westchester. There she invented "Louise" for a middle name (society girls were expected to have names a mile long). Of "Tina Louise" she once remarked, "It's entirely my name. To me it means joy. Nobody in any family can be hurt if anything happens to this name because it's my name only."


Tina studied at the Actors Studio. "I was there the same time Joanne Woodward was.... Nobody mentions it about me, though." Though she always aspired to be a serious actress, she found her beauty could get her publicity. The Sunday Mirror called her "New York Society's No. 1 Debutante." A year later, in 1954, Tina got a full page in the American Weekly, headlined MILLIONAIRE CHORUS GIRL. Photos showed her breakfasting in bed, lounging about her "swank apartment," and going out on the town.


Being a chorus girl was at least a showbiz beginning. She appeared in Bette Davis's Piro's Company, and Almanac with Orson Bean. Bean remembers Tina's lifestyle of the rich and famous - the time she and another chorus girl had a catfight outside the dressing room of the leading man, over who would get inside. "It was like a scene from a movie!" The Sunday Mirror reported deb/starlet Tina "went nightclubbing, and very seldom with the same man twice" during a six-month binge. "I had a great time since I was seventeen," she admits now, "a great time."


Well, there were some sour notes. When she spurned one preppie, he punched her in the face - leading to her first newspaper scandal. Tina pressed charges, but the judge just shook his head and said, "I understand the feeling of this young man when he saw this beautiful girl with another Romeo." He told the kid to keep away from Tina and let the rest of society's 400 get a chance.


The November 1956 Pageant ran a sultry set of photos of Tina in bed in a lace negligee. "She says she's a debutante," a caption said, "but she really wants you to think of her as an actress." It was pictures like these, splattered.all over the tabloids, that led Lenny Bruce to mention his lust for those "Tina Louise hooker poses." In 1957 she became Apassionata Von Climax in Li'l Abner, sharing a dressing room with Julie Newmar.


"I thought it was great fun at the time," she says, admitting that for her ultimate goal of dramatic parts, other routes might have been taken. Still, it was hard to turn down being a famous cover girl. From 1954 to 1957 the most serious question she got was about her measurements. The Sunday Mirror guessed 36-24-37, The Sunday News insisted 38-25-38, and the New York Post had it 39-24-36 - adding that she was five foot eight and a half, 135 pounds, and wore a size-ten shoe.


During Li'l Abner Tina was again in a newspaper scandal. It was the divorce battle between her mother and socially prominent Dr. Myers. To spice up the case, the papers ran shots of Tina. Mrs. Myers complained her sixty-seven-year- old husband was a two-timer who held nude "painting classes" with a mistress, and that he refused sex at home, once complaining "I'm writing a book on the fifth dimension. I want to be done. Another time he said,,"Don't bother me. I ate too much, for dinner."


The defense claimed forty-three- year-old Mrs. Myers was the one who had stayed. The elderly judge aided with the doctor,"insisting Plaintiff had a most social and luxurious life...fine homes, much travel and resplendent clothes and jewelry. It is regrettable that she was unable to steer the marital ship into calm waters...every wise woman buildeth her house, but the foolish plucketh it down with her hands."


Tina defended her mother to reporters: "All these things they've been saying are a pack of lies!" After such incidents, it's not surprising that Tina has guarded her own privacy ever since. Questions about her private life are 'off limits, even relatively mild questions, such as what qualities she looks for in a potential husband.


When the trial ended she was happy. When Li'l Abner ended after over six hundred performances, she was even. happier. "Believe me, I gave my greatest performances when I knew I was going to leave."


Determined to ditch the sexpot image of the play, she stressed her intellectual side to reporters. They still only saw the backside. James Bacon headlined one story: TINA LOUISE (WHEWEE!) IS GOING INTELLECTUAL. He couldn't understand Tina reading books by Aristotle and Voltaire. He likened it to Marilyn Monroe trading Joe DiMaggio for Arthur Miller. He wrote, "It would take a psychiatrist to explore the hidden relationship between sex appeal and a thirst for knowledge, but it happens."


Tina told Earl Wilson, "I like guys who verbalize more than guys who physicalize. Men imagine that this Don Juan approach appeals to women, but I really think the route to seduction today is by verbalization rather than physicalization."


Said Wilson, "You sound like Amos 'n' Andy."


Tina said, "It's a surer way to a woman's heart to be interested in what she's thinking than what she's wearing or not wearing. For example, how she feels about the coming elections or about planetary problems. You can get tired to the point of tears with this dull, monotonous-talk from men about how attractive you are."


She expounded theories of "mental communication without verbalization...all space is made up of waves and we are constantly sending and receiving messages from our brain...do you understand?" She also talked about politics, declaring her support for Adlai Stevenson in 1960. The joke was not Stevenson running again, but Tina interested in politics.


The Journal-American thought it was kooky that she worked out with barbells. "I'm a new woman since I discovered exercise," she said. "I concentrate on exercises from the waist down, since that is the laziest part of a woman's body."


In the '80s a Jane Fonda could get away with being attractive, physically fit, intelligent, and slightly eccentric in her pursuit of new challenges. In the '50s, Tina was seen, but not believed.


Tina doesn't recall herself as necessarily victimized by the panting press, a la Marilyn Monroe. In fact, she didn't think Monroe was victimized either. "She was not a weak person, she was a very strong, serious person." Tina was impressed that Marilyn was able to steer her career well enough to make quality films.


Tina started off her career the same way, winning good notices for her first film, God's Little Acre 'in 1958. She told Joe Hams that there was more to her role of Grimed than one might imagine: "Grimed only seems sexy because she looks sexy and maybe feels that way but...hers is a tragic story and one I know too well. Men just can't keep their hands off Grimed, because that's the way she affects them every time a man sees her he tries to kiss her and rough her up.... Sex is a part of her, but is really not her. I understand this so well, because I don't like men to treat me as I look either...you don't understand, do you? I'm not one- dimensional at all. If anybody spends any time with no, they learn that. Man, it's rough trying to convince people that I'm really a serious actress."


She was more serious about her career than anything else: "It's the one thing I don't think will ever let me down." Today God's Little Acre is still one of Tina's favorite film roles.


She turned down the movie version of Li'l Abner, to stay with dramas, and said no to Cary Grant's Operation Petticoat. "It went on to make millions of dollars, but I turned it down because it was just a lot of sex jokes."


She entered the '60s fulfilling her plan, appearing in creditable films like The Hangman with Robert Taylor, Day of the Outlaw with Robert Ryan, and The Rap with Richard Widmark. She told reporters to forget her early days "when I was known as a glamour girl...it helps an actress get attention when she's starting out," but those days were over.


Her return to Broadway in Fade Out, Fade In with Carol Burnett proved she was on her way to a varied career in good shows and movies. Then came Gilligan's Island. She loft the Broadway show after just a month -- promised a starring role on TV by CBS's president and the rest.


"Oh yeah, they kind of sold it to me that way," she says with a light laugh that sounds lees than happy.


At first, doing her Gilligan's Island role did not suit Tina Louise. However, she was under contract so she stayed with the series to get more acting 'exposure.' As Tina says, "After all, I am a professional!"