Gilligan Lands On Middle Bass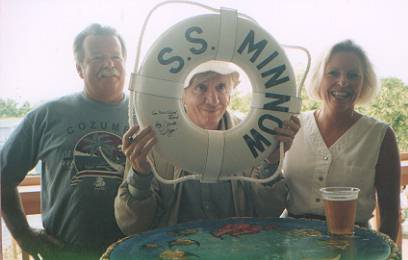 Actor Bob Denver looks through the life-saving ring he autographed for Ann and Steven Morris of South Charleston, Ohio, on Middle Bass Island.

---
By JENEIL JOHNSON (Staff Writer)


MIDDLE BASS ISLAND - Once again, Bob Denver on the popular has landed on another island. Denver, 64, visited St. Hazard's Village Resort on Middle Bass Island Saturday to sign autographs and reminisce about the three - hour tour that lasted four years ... and to promote the development. Denver, who forever will be known as "Gilligan" from his four seasons from 1964-1967 on "Gilligan's Island," was a hit once more.


Caribbean music streaming from the resort greeted guests as they waited in anticipation for Denver to arrive. Stroking a white boa draped across her shoulders Kay Spatafore, 40, of Avon, dressed as "Ginger" from the series said she has always been a huge fan of Denver's and the show since she was a little girl. "I came to see 'Gilligan' and the resort is a great place to be," said Spatafore.


Wearing his original hat from the show, Denver gladly shook hands and posed for pictures. Denver said he usually does four or five public appearances a year. He also said that wherever he goes, people of all ages are familiar with the show. Denver said he receives positive responses from parents whose kids watch the show.


"Parents will come up to me and tell me how much their kids love the show," said Denver. The series went off the air in 1967, but continues to run in syndication on cable networks around the world. "The show has never went off the air. It's been on for 35 straight years," said Denver.


Denver is also recognized as "Maynard G. Krebs" from the early 1960s series "Dobie Gillis." "There are just as many people that remember me as 'Maynard,' " said Denver.


Over the years Denver has made special appearances on TV shows such as "Alf," "Roseanne" and "Baywatch." Denver said his appearances are usually in a dream sequence. Denver said he would consider acting again. "If something comes up, I'd like doing it again," said Denver.


When Denver is not doing public appearances he spends time with his wife maintaining the official Gilligan fan club web-site, www.bobdenver.com. Denver said the website has 30,000 users a month and recently received nearly one million hits.


Fans dressed as the popular characters from the series added to Denver's visit. Chris Steagall, 42, of North Olmsted, dressed as "Mary Ann," "Gilligan kept us young," said Steagall. Steagall said the resort looks like Gilligan and the castaways would have built if they never got off the island.


"It's a perfect place to have 'Gilligan'," said Steagall. Ed Gudenas, developer and owner of Saint Hazzards, said he would like to have other events at the resort in the future.


"I would like Bob Denver to come back every year," said Gudenas.