About Russell Johnson


Born in 1924, Russell Johnson grew up in Ashley, Pennsylvania, one of seven children. At age eight, his father passed away. Due to his family's financial hardships and inability to take out personal loans to cover their expenses, Russell was sent to Girard College, a school for "poor white male orphans." There, Russell was an average student and joined the Army after graduating. During World War II, his plane was shot down in the Philippines and he had to crash land on the island of Mindanao. In this mission, he broke his ankles and earned his purple heart. He was also awarded the Air Medal with Oak Leaf cluster, the Asiatic-Pacific Theater of War ribbon with four battle stars, and the Philippine Liberation Medal. He was honorably discharged with the rank of first Lieutenant on November 22, 1945.

After his stint in the military, Russell turned to acting since hisG.I. Bill allowed him to enroll in the Actors Lab in Hollywood. During this time, Russell married actress, Kay Levy, worked at a pen-making company, and drove a cab. His first film break was in a film entitled, For Men Only, in which he played a villain. From this Russell made several B-movies, among the most noted were This Island Earth, Attack of the Crab Monsters, and It Came From Outer Space. Russ also made several westerns on both television and the silver screen, including TV's Black and the feature film, Law and Order, with Ronald Reagan. Russ acted in two episodes of The Twilight Zone - an episode entitles "Back There" and another titled "Execution" - work that Russ is still very proud of doing today.

After "Gilligan's Island," Russ has made numerous guest appearances on television and spent two seasons on the hit show "Dynasty." Today, he is married to his second wife, Connie, has a son, David (who unfortunately died in 1996), a daughter, Kim, a stepson, Courtney, and a grandson, Max. He lives on Bainbridge Island near Seattle, Washington.

---
Sent to us by Judy Koons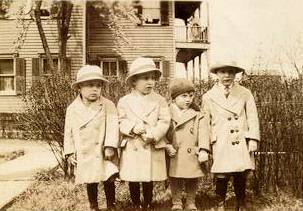 The picture above is of Russell Johnson and his two brothers, Kenneth and David along with my father Don Koons. They grew up neighbors in Ashley, PA. I believe Russell is on the right standing next to my father (the little one).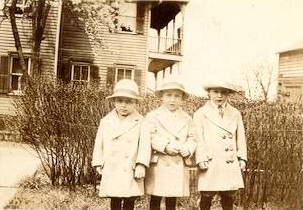 These pictures were taken in (or about) 1930 in Russell Johnson's grandfathers (Jim Johnson's) backyard. This property backed up to my grandparents (Margaret and Paul Koons) property in Ashley, PA. Russell's grandfather and my great-grandmother were brother and sister. I was told he spent a lot of time there visiting his grandfather and his Aunt Elsie Davis.

Russell lived on Ashley street accross from my Great Aunt and Uncle, Carl and Gladys Messinger. After Russell's father passed away, my father (pictured with Russell and his brothers) remembers that my Uncle would drive Russell's mother to Girard College where she would visit the boys at school.

---
AND YOU THOUGHT HE ONLY PLAYED THE PROFESSOR

Television The Adventures of Superman The Dakotas 77 Sunset Strip Newhart My Two Dads Alf Dallas Knot's Landing Santa Barbara Lou Grant Bosom Buddies Wonder Woman Rich Man, Poor Man (2) Hagen Cannon (3) Police Story McMillan San Francisco Int. Airport FBI (3) Gunsmoke (4) Mannix The Dakotas Ironside Code R Scanian Steve Canyon Suspense Theatre Outer Limits Marcus Welby, M.D. Big Valley Laramie Route 66 True June Allyson Show Casey Jones D.A. Gilligan's Island (3 seasons) Square One TV