Star Covers Story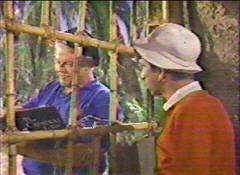 ---
Click here for newspaper clipping. (ryaneff@shaw.wave.ca)
---
GILLIGAN'S DAWN WELLS CAUGHT UP IN INTERSTATE DRUG STING

GILLIGAN'S ISLAND star Dawn Wells has gone into hiding since being caught up in the scandal surrounding co-star Bob Denver's pot bust. STAR has learned that Wells, who played coconut pie-baking Mary Ann in the legendary '60s sitcom, disappeared from her Los Angeles home and hired a criminal lawyer after her name was dragged into an investigation of a drug ring spanning three states.

"She's totally stressed out," said her attorney, Donald J. Calabria. "She's a nice lady being punished right now."

Narcotics cops say they found 16 canceled checks made out to Wells for amounts ranging from $340 to $700 when they raided Denver's Princeton, W. Va.,home on June 4. The raid came after the officers were tipped of that a package containing marijuana had been mailed to Denver.

"When Denver's house was being searched, the checkbook was found and the amounts were written in, in the amount that the marijuana had cost," Detective Kevin Compton told STAR.

"If Wells was charged and convicted in West Virginia," he added, "she would receive 16 felony counts of conspiracy to delivery marijuana, earning one to five years in prison for each count."

Denver told cops that Wells has been his supplier since 1995, according to one well placed police source.

According to the source, Wells ordered two packages of pot - one to be sent to Denver and one for herself at her Toluca Lake, Calif., home fro a Pueblo, Colo., drug house in June. A drug-sniffing dog caught a whiff of the weed - and police intercepted the suspicious parcels.

When 63 year old ex-sit-com star Denver opened his door, an undercover cop dressed as a Fed Ex delivery man dropped off the 1.25 ounce package of pot. An unsuspecting Denver signed for it - signaling a team of six cops to move in with their search warrant.

Wells, the 54 year old former GILLIGAN'S ISLAND actress - turned cookbook author, freaked out when she learned of Denver's arrest, insiders say.

She immediately hired Calabria as her lawyer, changed her answering machine tape, and left town.

Her attorney maintains she's innocent.

"Dawn and Bob have been friends for 35 to 40 years now," he said, adding they are friends and have business dealing.

He claims Dawn is ready to talk to authorities. "No one has even approached us," he said.

"The allegations are totally unfounded and untrue."

But police in Wells' California community say that even if the allegations were true, the amount of pot involved was not enough to bother with.

"We'd cooperate, but there's really not alot to go on," said a Los Angeles detective. "We deal in thousands of kilos of cocaine at a time It's ludicrous to think that we're going to mobilize a team of 10 cops to stake out Wells' home for less than an ounce of pot."

Denver, when he appears for a scheduled Sept. 3 court date, faces a minimum of six months in jail and up to a $1,000 fine on misdemeanor drug charges.
---
BOB DENVER'S WACKY POT-SMOKING SECRET LIFE

He dropped out to raise goldfish on a lonely mountaintop - until he got nabbed in interstate drug sting

Just call it Gilligan's High-Land! Bob Denver, who played a dopey castaway on Gilligan's Island, left Hollywood for the hills of West Virginia years ago - where he confides to friends that he loves smoking a little marijuana to get him through the day. "I like to take a puff or two before going on the air," Denver, who hosts a weekend syndicated radio show from his home deep in the woods of Princeton, W. Va, told a pal. "I still get stage fright when I have to perform." "A little grass gets rid of the problem," ads the 63 year old actor whose schemes over the years have included starting a line of miniature golf courses and even selling "Gilligan's Goldfishes" out of the toxic - green - colored pond in his yard. "I've been doing it for years," he says of his pot habit. "I never thought it could land me in the slammer!" Bob Denver - and the legion of Gilligan Island fans who still watch the show in reruns - were stunned when he was arrested in a drug raid at his house for ordering a package of pot through the mail. The bust also has left Denver's former co-star Dawn Wells, who played squeaky-clean Mary Ann in the hit '60s sitcom, clouded by controversy. A cop dressed as a FedEx man dropped off the 1.25 ounce package on June 4 while six others hid. The unsuspecting Denver accepted the pot, sent from Pueblo, Colo. before cops returned a few minutes later. He was extremely ashamed when the cops arrested him," says an insider. "He hung his head and apologized, 'I feel I've done something wrong.' "Then he sat at his dining room table as the cops searched his house for two hours with his wife and 14 year old son watching.

"Cops found two or three marijuana pipes and 10 more grams of pot under a sofa cushion. The next day, they formally arrested him and took him away in a police car.

"He's out now on $1,000 bail, but he's totally humiliated by the ordeal." The sitcom legend and his wife, Dreama, host the WEEKEND WITH DENVER & DENVER oldies show from the basement of their rambling mountainside home. Police sources tell STAR they believe Dawn Wells arranged for the pot delivery. Wells' lawyer, Donald Calabria, insists there's no evidence linking Wells to the bust. "That is absolutely not true," said Calabria.

This is a poem also in this paper set to the tune of the Gilligan's theme.

GILLIGAN'S FILE (POLICE, THAT IS)
Just light your pipe and you'll hear a tale, A tale of a pot-filled trip That started from this smuggler's port Aboard this weed-filled ship.

The mate was a mighty toke'n man The Skipper even more, Five potheads had set sail that day before they left the shore, Before they left the shore.

STAR hates to break the news to you, But the shipwreck story was faked, Though known for her coconut pies, Mary Ann was the one who was baked.

The ship ran ground on the shore of this Well-charted desert isle, When Gilligan, The Skipper too, The rich drug lord and his wife, The rehab star The Chemist and Mary Ann Learned why Gilligan smiles.