Gilligan's Island Restaurants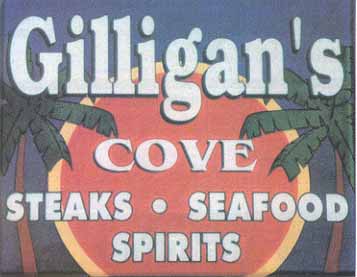 Believe it or not there are even Gilligan's Island Restaurants out there in the world! I have never personally been to any of these, so if one of you ever get a chance to go to one, please float me a letter and give me your opinion of the place. If you also can send me any menu's, flyers, napkins, ect... I'll scan them and add the info to this page. Of course I'll give you honorable mention on this site. Enjoy, and happy eating!!!

---
Alan Hale's Lobster Barrel And Steak House
826 N. La Cienega on Restaurant Row in Los Angeles, Calif. 652-4702
This has long since closed, but we thought we would add it anyways. As you all know, the Skipper loved lobster, thick juicy steaks and beer!
---
Gilligan's Pier Seafood and Steakhouse
11535 Popes Creek Road, Newburg, MD 20664
(301) 259-4514
Located on the Potomac River, voted best crab in the district. Kids meals are served in sand buckets for them to keep! Relax around palm trees, play volleyball, drink at the Tiki Bar, enjoy the water shuttle service, shopping and more!


REVIEW: We decided to go to Colonial Beach today just for a change of pace. Great weather, a nice ride up 301 and a little seafood. So we go across the border into Maryland, but we don't see any signs so we pull into the Visitor Center, and ask if there are any good seafood places nearby. We ended up going to the Gilligan's Pier on Pope's Creek Road.


We pull in at 11:30 am, and the place is pretty empty. We get a pitcher, and order 1/2 dozen large steamed crabs and a dozen steamed clams. 20 minutes later, the waitress comes back. Not with the food, but to say that they are out of the large crabs and would we mind the mediums instead? We say sure, anyone can make a mistake, no biggie, we are here to have fun. Funny she didn't bring out the clams, but we figure she must have wanted to bring it all out together.


Another 20 minutes, and a food runner comes out with the crabs and no clams. The crabs are fine, but we ask where the clams are, he says he'll check but we never see him again. 10 minutes later, the waitress comes back and we get another pitcher, and tell her the crabs are fine but we never got the clams. She came back with the pitcher, still no clams. Then I ask her again about the clams, and they finally come out. They were a chewy nasty hard as rubber bands mess, I think they must have been cooked when we asked for the large crabs, and sitting under a heat lamp the entire time.


We don't see the waitress for a good 15 minutes, and we are now done with the crabs, and have not touched but one of the clams. We ask her to just get rid of the clams because they are inedible, so can she take those off the bill and get us an order of fries. Well five minutes later another food runner comes out with fries. They are hot, they came quick, and she leaves them on the table, but no ketchup.


"Excuse me, miss, could we get some ketchup?" I get the full eye roll, a loud sigh and a "Umm yeah, when I get a minute" before she disappears. I give it five minutes, and finally go over to the other side of the restaurant and snag a ketchup from a wait stand. So we pay the bill, and we decide that the beer was cold and the patio area is still nice, so we go out to the little cabana bar that's on the water to have a drink and forget about the crappy service.


However, the bartender is chatting with regulars.Five minutes, ten minutes, so then finally I say, loudly, "What do you have to do to get served in here, anyway?" so he says "I'll be with you in a minute, sorry, didn't see you there." And we were behind him and the center island of the bar was in between us. However, despite it now being 2:00pm, he had neglected to stock his bar. Apologizing to us (and by the way... all we wanted to freaking order was a couple of bottles of beer, and hell we could have even opened them if THAT was too much trouble) he goes from the little cabana back to the main restaurant to get whatever he forgot.


He did at least say to the few people gathered around the bar that he was sorry and would be right back, but when he came back he then immediately served the people who had come up to the bar while he was gone. Not us, who had now been there close to 30 minutes. I had enough and left. We ordered three things to eat. Crabs, steamed clams and fries, and they all were messed up. How the hell do you screw up EVERYTHING in a couple orders? Two were steamed, one was fried.


How can anyone who works in a restaurant in the USA get bent out of shape when you ask nicely for ketchup with your fries? How can anyone who tends bar have two adults sit there with tongues hanging out for 10 minutes without noticing them? It was not busy when we came in, although it did fill up later, but that's no excuse.


I was at table 145. I really don't blame the waitress, who was nice when she was there at least. The food runners were rude, the bartender was totally disorganized.


Gilligan's Pier, Pope's Creek Road. AVOID
---
Gilligan's Nite Club
Bristol, Tennessee. 423-274-0434
They have a lot of memorabilia, pictures etc. on the walls and throughout the club.
---
Gilligan's Bar And Chargrill
Lake Sakatah in Waterville, Minnesota.
This bar is famous for its 26 oz. steak known as "The Shipwreck!." Play vollyball, sit on the patio or pier while over-looking the lake. Even belly up to the S.S. Minnow boat for your favorite cocktails. Looks like fun!
---
Gilligan's Restaurant
134 W Market St. Lewes, Delaware (302-645-7866)
The prices look pretty reasonable and it's located right on the harbor. Actually you have dinner right on the S.S. Minnow!

---
Gilligan's
Austin, TX.
Tons of seafood with live entertainment located on Shoal Beach. Looks fun!
Menu

---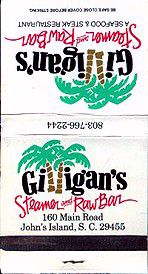 Gilligan's Steamer and Raw Bar
John's Island, SC. 843-766-2244; Summerville 843-821-2244; Mt. Pleasant 843-849-2244; Lexington 803-808-2244; Columbia 803-419-2244 (All In South Carolina)


"It was great! Great food in a casual family environment, but before getting into all the food stuff let me give you a brief history of Gilligan's. The restaurant actually has nothing to do with the T.V. show that we all know and love. The restaurant is actually steeped in Charleston, SC tradition. It was named after the original old Gilligan's Oyster Factory in Charleston. The factory was founded by John C. Rutledge, before the turn of the century in 1891. It was famous for its 16 oz. select local oysters. Such great names as Albert Einstein, Rudolph Valentino, Buster Brown, Spanky, Dink and Patsy Bailey, Cliff Corley, and Jimmy Tapp were not uncommon regulars."


"This information might lead you to believe that oysters are the restaurant's top seller. However, the most requested entrees on the menu are the fried seafood platter and the fried seafood combo. People also love the key lime pie that is made fresh at Gilligan's. The prices for entrees on the lunch menu range from $4.95 - $13.95, the dinner menu prices range from $7.95 - $19.95. So, if your going to be in the low country in the future stop by and give Gilligan's a try. Great food, Great service!"
Amy
---
Gilligan's Cove
Satellite Beach in Brevard.
This place is a must and looks like a steal with Las Vegas buffet style prices! Real cheap and all you can eat! I really want to hear about this one! WOW!


UPDATE by Stacey Wilkin: It's in Florida, Melbourne to be exact; about 20 minutes from Cape Canaveral. I've been there, it's a hoot. The food is good, and they also have a lounge/dance floor. The prices weren't bad, but it wasn't cheap Las Vegas buffet style either ;). There is also another Gilligan's Restaurant in Sanibel, Fl. I've been to that one too. That one is nice as well, right on the water, and they sell t-shirts. :) Keep up the good work.
---
Gilligan's Bar and Grill
5253 Ocean Boulevard, Siesta Key, Florida
Just drive your boat all around this little city.... then eat!
---
My name is Mitchell Young. I am a pastor of a small church on the Island of Kauai (in Hawaii).
Here's one to add to your list of establishments with Gilligan's name in it: Gilligan's Disco at the Outrigger Kauai Beach Hotel. I've not been there yet, but I called for information (808) 245-1955.


Thursdays from 7:30 pm: Country line dancing and Latino
Fridays 9 pm to 1 am: 70's and 80's dance music
Saturdays 9 pm to closing: Top 40
$5 cover charge on Friday and Saturday

---
GILIGIN'S
4251 N. Winfield, Scottsdale, Arizona (874-2264)


We go to the Giligin's bar (misspelled intentionally) in Scottsdale everytime we are in town (about 2 times a year). It is really small, but great! Everytime you walk in, you get a free spin on their drink wheel. It usually lands on Kamakaze shots, though. Anyway, it is a real hole in the wall, crowded with ASU students and locals alike. Definitely worth visiting on any trip to the Phoenix area. Oh yeah, it is in Old Town Scottsdale -- don't remember a lot, we are usually too drunk to notice.
Chuck and Sean Wilson, Scurvy
---
Gilligan's Restaurant And Oyster Bar
530 E. Hwy 98 Destin, FL 32541
Phone # 904-650-9000
It's very Gilligan-like with a thatched roof over the deck and a beautiful view overlooking the Destin Harbor. The Gilligan theme isn't really played there, but you can see it in the architecture. The food is great! All kinds of appetizers, (seafood type mostly) soups, salads, everything you could want in seafood dinners, beef, chicken and desserts like coconut cream. Stop by if you're down in Florida.
Buford and John Smith
---
Gilligan's Pub and Grub
912 1st Ave NW Cedar Rapids, IA 52405
Phone # 319-298-9948
I haven't been inside, all I know is that it is the gathering spot for the local Packer Backer club. They go there to watch the Green Bay Packers play football every weekend. You know, Gilligan (A.K.A. The red ball express) would be a great running back.
Don Flanagan
---
E-mail me your info here